I'm up to this vegan challenge…
The new Doritos Locos Tacos is a Frankenstein-like creation of stoner proportions; Bill and Ted's excellent fast food adventure set to the tune of Dr Dre's The Chronic. Basically, every 12 year old's Mountain dew'd dream come true. And. Frankly. My 12 year old self is one jealous Em n' Effer.
For a professional musician (on a budget) like myself who spends most of his time on the road – Taco Bell is a helluva drug.
I am not going to kid myself, to veganize Doritos Locos Tacos is less about cooking from scratch and more about corralling existing components (and recipes) to create the finished product. Besides 'cooking from scratch' would be a disservice to Taco Bell's commitment to creating neverfreshalmostfood.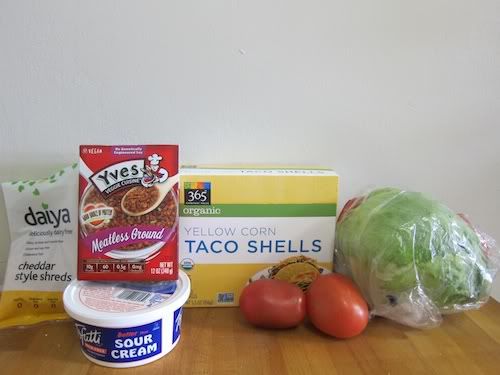 First things first, let's work on that shell. To be honest, last time I had a
Nacho Cheese
Dorito,
50 Cent was still in da club
– I don't quite remember the taste I'm aiming for; i just know what
I want it to taste like
. While there's quite a few Doritos seasoning recipes on the web (mostly not vegan) the clear winner for what I'm looking for is
Jenn Shagrin
's take on the pumpkin-tinged powdery-paste. I've
stolen
borrowed
her recipe here
:
(I've substituted the tortilla chips in her recipe with store bought, ready made taco shells)
RECIPE #1


Vegan Doritos (Shells)

* 1 package Taco Shells
* 1 10oz. block Follow Your Heart Cheddar Cheese
* 1 1/2 tsp Onion Powder
* 1 tsp Garlic Powder
* 1/2 tsp Yellow Mustard Powder
* 1/4 tsp Red Paprika
* 3/4 tsp Salt*
* Dash of Cayenne Pepper

Preheat your oven to 325 degrees. Line a rimmed baking pan with parchment paper. Grate the entire block of Follow Your Heart Cheddar Cheese as finely as possible, then spread out onto the parchment paper. Place the baking pan in the oven for 3-5 minutes, or until it's fully melted but not burned. Allow the cheese to cool for a few moments, then use a paper towel to blot as much excess moisture off of the top as possible. Repeat the blotting process again after ten minutes.

Scrape the cheese into a bowl, and use a paper towel gently squeeze as much moisture out as possible.

Allow the cheese to sit another 10-15 minutes.

Make your spice blend by mixing together the remainder of the ingredients in a small bowl.

Place the cheese into a food processor, and blend until the cheese is a creamy, dry paste.

And now, the crazy part:
Use your fingers to rub each chip with a VERY thin coat of the nacho cheese paste.

Preheat the oven to 350 degrees, and bust out another large baking pan.

If you don't like a lot of spice, skip the next step and just sprinkle the seasoning blend on when the taco shells are on the baking pan.

If you like a lot of spice, place each cheese-covered taco shell in a large tupperware container or paper bag, and gently toss with the spice blend.

Lay the taco shells out on a baking pan, place in the oven for 2 minutes then turn and bake for another 2 minutes.
RECIPE #2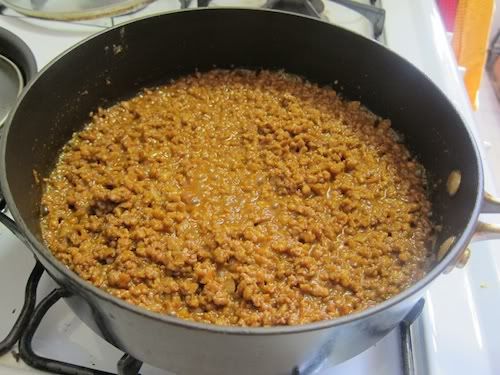 Part two of my quest involves Taco Bell's
mostly-meat
filling. A pasty concoction that I assume is their ol' college try at a
picadillo
.
There are a multitude of copycat recipes out there for the filling. Top Secret Recipe's version seems to be the most consistent (in texture and appearance) and evenly spiced. I've modified the recipe for one package of Yves SoynGround Beef and the absence of (meat) fat.
Vegan Taco Bell Meat Filling

1 tsp oil
1 Package Yves Ground Beef
1 Tbsp All Purpose Flour
3 tsp chili powder
1/2 tsp onion powder
1/2 tsp garlic powder
1/4 tsp seasoned salt
1/2 tsp paprika
1/4 tsp cumin
1/2 tsp garlic salt
1/4 tsp sugar
1 tsp dry minced onions
1/4 tsp vegetable bouillon
Preparation:
Mix together all ingredients except the taco meat. Stir the spice mixture well making sure that all spices have been blended well.
Crumble Yves soy ground beef and brown in 1 tsp of oil; stirring well. Add taco seasoning. Add 2/3 cup of water to ground 'beef' and taco seasoning and simmer on medium low temperature for 15 minutes. Simmer until most of the moisture has cooked away.
Remove from heat when moisture in soy meat has dissipated but soy meat is not dry. Salt to taste.
RECIPE #3
ASSEMBLAGE

There is no 'recipe' for success in this stage of the game; it all comes down to ingredient layering. I used chopped icerberg lettuce, seeded and diced plum tomatoes, tofu sour cream and shredded daiya cheeze.
Taco Train: Filling – Tofu Sour Cream – Lettuce – Tomato and Daiya Cheese.