I am partial to playing dress up in real life. Looking good makes me feel good. Dan Mims is all about looking good, feeling good and keeping things on the cruelty-free tip. I don't think I've ever had a conversation with Dan that didn't dip into fashion; it seems only natural for me to talk shop with the dapper vegan dude on his new venture The Ethical Man.
Who is Dan Mims and what is The Ethical Man?
On a fundamental level, I don't know who I am and suspect I never will. As a result, I don't spend any time thinking about it. I'm much more comfortable thinking about what I am — an anti-capitalist entrepreneur; a classically trained renegade philosopher; a sensitive, musically responsive pounder of drums; an analytical romantic. I also know what I want to be: good. Really, morally good. Not in-my-own-head good, or the-Bible-says-so good, or the-electorate-thinks-I'm-good; genuinely good. And I want that assessment to stand up to the harsh scrutiny of properly applied formal logic and evidential considerations.
The Ethical Man is a store and a blog for men. It helps men be and look their best by offering well-styled vegan items and thoughtful personal presentation tips in a single place. This saves a man time and improves his personal life, and I really do care about that. But, ultimately — this is what I really really care about — it improves the world. The world doesn't just need good men; it needs influential good men, and like it or not, the way a man presents himself has a profound effect on his ability to influence others. By convincing vegan or vegan-friendly men to embrace or refine their personal style and giving them the tools and advice they need to do it, The Ethical Man is creating social power for good men. To me, that's the most important upshot of the project.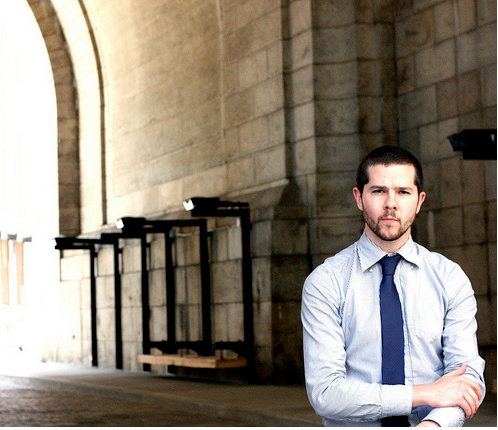 What sparked your interest in fashion? In veganism?
Until I was about 22, I had never really felt comfortable with the way I dressed. But I didn't even have the self-awareness to understand that. Moving to New York, and in particular, working for Spin Magazine, initiated a transformation. Not only was I surrounded by people who dressed in ways that were new and exciting to me, but it was a part of my job at Spin to construct narratives and presentations for the fashion ad sales guy. Doing this for various brands led me to grasp the social importance of fashion, which, to be honest, I had been very dismissive about before. But it still took me a couple years of observing and experimenting and thrift shopping to come even halfway into my own style, often with what I can now see were hilariously off-pitch results. (Thankfully Spin didn't hold my skin-tight red pants and womens' t-shirts against me.) Then I took a job at Yahoo! and for the first time in my life had some money to spend on high-quality, more classic clothing that fit. And that really did it. My interactions with people became so much more effective than they'd ever been before, and my confidence soared. I finally understood — really understood — how important it is to present oneself well. It projects confidence and value, and others need to see that in us. It was a great thing for me.
I had always considered myself an environmentalist and an animal lover. (I was the guy who would capture and release insects to protect them from blood-thirsty classmates and all that.) Growing up, we took care of a dog and a cat who obviously had personalities and interests of their own. But then we would eat 7 or 8 pounds of cow for dinner. I just didn't make any of the connections. When I was growing up, even in fairly liberal Connecticut, nobody around me talked about veganism. Nobody. Not even in a negative way. When my twin brother went vegetarian in college, that was the first time that a plant-based lifestyle wasn't just a thoughtless, passing reference in my life — like on The Simpsons or something. My brother's initiative forced me to confront my own behavior, and pretty soon I realized that going vegan was inevitable. After going vegetarian for about a year, I forced myself to watch several videos of factory farming, and that's what did it. Vegan for life. And little did I expect what would happen — I felt physically and mentally better, I ate more healthfully, and my palate expanded enormously to all kinds of foods I hadn't known about. The vast majority of real, unprocessed food across the world is vegan — so when people say they're a "foodie" in order to justify eating animal body parts and fluids, that's just self-deception. I don't know anyone who loves food more than the vegan community. In any case, saying the switch to veganism was "life-changing" doesn't begin to describe it, especially not for the animals that have been spared.
What kinds of things are you looking to carry at the Ethical Man store? Other than the obvious (vegan) is there a specific criteria?
Our curatorial process is guided by a few principles. Of course, everything has to be vegan. Beyond that, we're really looking for items that are either extremely stylish or extremely functional. And there's a special place in our hearts for items that achieve both. Examples include a belt with edge that also works with a classic suit, or a wallet that's thin enough not to bulge out unattractively. In general, we gravitate to items that at least partially retain classic design elements — items that look great now but have longevity too. At the same time, we have a soft spot for detail items that tastefully push boundaries — for example, the meaningful and quietly provocative printed bow ties we offer.
One of the things I want people to know is that The Ethical Man store doesn't operate like a typical store in at least two key ways, which are probably two sides of the same coin. First, our inventory is and will always be relatively small and carefully curated. I love style, but I don't necessarily enjoy shopping. I think most men (at least) would agree that it's a waste of time to sift through hundreds of items in search of a few gems that might not even be there. Faced with that prospect, we often give up, or we settle for something that isn't really all that great. But TEM only features gems. In practice, this entails that our offering list is going to be pretty small — the cream of the crop. And I think we're unique in that regard. TEM was founded in part as a response to the fact that nobody was offering a concise, curated shopping experience for vegan and vegan-friendly men, which is what most men really want, I think. Second, TEM doesn't feature inventory simply because we think it will sell well. We select our items because we think they're amazing. Being featured in our store is a genuine endorsement of the item itself, which is also why we take the time to write thorough descriptions and explanations. We truly love what we're selling, and we're hopeful that that's enough to convince people that they'll love it too. No hard or annoying sales pitch. Just shared passion. We're not in this primarily to make money, that's for sure.
Speaking of which, we also assess items to make sure they're worth the price we'd be asking. Offering value to customers is really important to us, and we would never abuse that trust. At the same time, if something is expensive and we're selling it anyway, that should signal to everyone that the item is that incredible.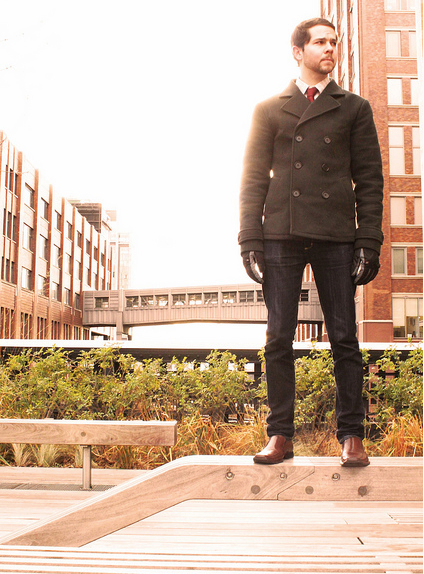 Describe your personal style; is there a certain 'look' you're going for?
My look is fitted — always fitted (unless you count a breezily open jacket from time to time as unfitted). Tapered shirts and pants are essential to maintaining a fitted look, unless one's proportions literally demand for a straighter cut (for example, if you have normal-sized thighs but iron man calves). Those basics are key but so are layers and details — executed well, they signal more sophistication than any amount of cocktail conversation could. I have a particular fondness for ties (never wider than 3″, usually thinner than 2.5″), cardigans, and watches. As far as prints, I like solids, checks, thin to medium vertical stripes, and the occasional plaid for shirts, which I always tuck in — again, to maintain a fitted look. (A nice secondary benefit of tucking in is that you get to show off your belt.) I like solids, bold slanted stripes, and micro-checks for ties, which I tie in a four-in-hand (a.k.a. single) knot and cinch to the neck as tightly as I comfortably can. I then adjust for the thickest, most symmetrical knot I can get. I tend to wear a pair of socks that goes with what I'm wearing but isn't necessarily represented anywhere else in the look. Argyle, horizontal stripes, or sparse polka dots are great for that. Light gray, tan, or cream-colored socks are a go-to option for me because they're an underused alternative to navy blue or black, and they're neutral enough to go with any color scheme. For footwear, I like sleek dress shoes with slightly rounded angles. They're exciting and interesting, and — not kidding — they're better for dancing, which is something I like to be able to do if the moment arrives. Round or bulbous shoes are boring and clunky, and aside from style issues, they don't work at all with my long-ish, narrow-ish feet.
It all sums up into an angular, fitted look with plenty of interesting details. Boldly buttoned-up, you might say.
Quick Fire Questions:
Your ideal outfit
Boxer briefs by Uniqlo; charcoal/beige/cream horizontal striped socks by TopMan; midnight blue T-001 tapered jeans by Uniqlo; brown belt by Truth; cream/maroon checkered dress shirt by Biltornade; maroon skinny tie by Jaan J. (available at TEM); navy blue cardigan by American Apparel; a pair of brown prototype men's shoes from olsenHaus; a faux leather strap watch by Swiss Army; and The Pea medium-length pea coat by Vaute Couture (available at TEM). All vegan, naturally.
Your favorite piece of clothing
Not a fair question! It's a toss-up, but I do particularly like a cotton baby blue cardigan I got a couple years ago from Uniqlo. It somehow manages to be both disarming and manly.
Best Vegan shoe?
I think more than anything else, vegan men's shoes is a problem area. Ironically, aside from shoes bought at Payless, most of the shoes I've tried have fallen apart on me. I think they're getting better, though. I know olsenHaus is considering a men's line, and I trust Elizabeth [Olsen] to make good stuff. Right now, in terms of what's available on the market, NoHarm is probably the best. I really like their slip-on ankle boot. But their stuff is expensive, and at this point I've only tried things on — never owned. So I don't know how they wear over time. (FYI, one of the keys to making your shoes last is to have several active pairs at a time. That way you aren't wearing any single pair day in, day out. Since wear-and-tear compounds exponentially the more frequently you wear a pair of shoes, having at least three pairs to circulate in and out extends the life of each by quite a bit.)
Favorite vegan hair product, soap, deodorant, lotion and toothpaste.
Hair Product: David Babaii for Wildaid Sculpting Clay. Soap: St. Ives "Energizing Citrus" body wash and Method "Sweet Water" hand soap. Deoderant: Tom's of Maine "Crystal Confidence." Lotion: N/A. Toothpaste: Tom's of Maine "Natural" toothpaste.
For the ladies: Is Dan Mims single?
Single and looking for a great woman
First Large Photo (after jump) by Jennifer Simmons
Small header photo and 3rd Photo by Jasmine Wilson