Looking for a place in Beverly Hills to be Vegan, eat yummy things, and be swanky? Put on something smart casual and head over to Windows Lounge at the Four Seasons Hotel! Their lovely chef has created a whole slew of Vegan items just for people like us, but classier, so go take advantage whilst simultaneously impressing people.
Take a look at the spread they put in front of my face!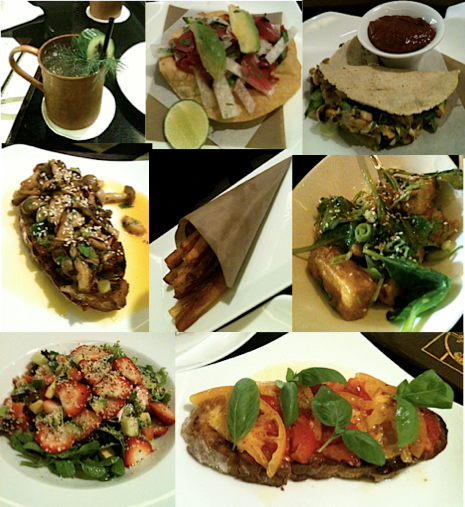 Top Row: Cocktail, Jicama Tostada, Hand Made Quesadilla with Corn and Mushrooms
Middle Row: Special Mushroom Crostini, Pommes Frites, a Special Tofu Dish
Bottom Row: Young Hollywood Salad, Farmer's Market Heirloom Tomato Crostini
Everything was tasty, especially the things with 'shrooms, and look at that cute copper cup my cocktail came in! Nothing's fancier than one lady eating seven dishes.