If you like things that taste really really really good, then make this!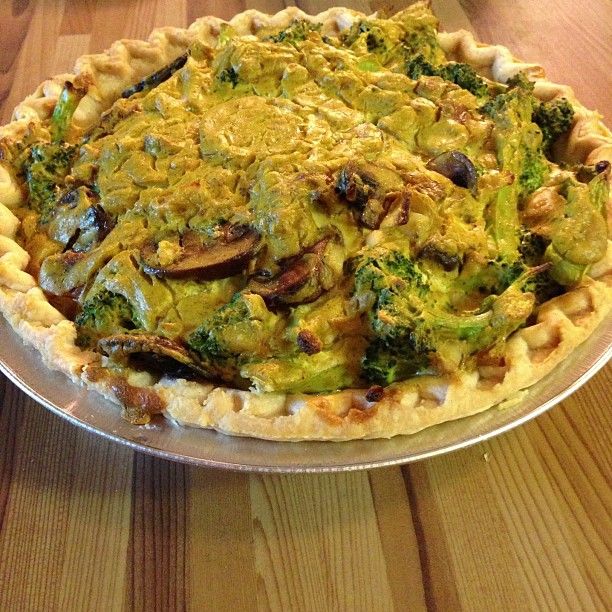 Here's how! You'll need:
INGREDIENTS
1 (9 inch) unbaked Vegan pie crust
1 bunch of broccoli, chopped
some sliced mushrooms (I used 1/2 a carton of baby bellas)
1 Gardein Breakfast Patty, crumbled
1 Tablespoon olive oil
1 onion, finely chopped
5 or 6 cloves of garlic, minced
1 brick of extra firm tofu, drained
1/2 cup "freaky milk" i.e. the non-milk milk of your choice
1/4 heaping teaspoon Dijon mustard
3/4 teaspoon salt
1/4 teaspoon ground nutmeg
1/4- 1/2 teaspoon red pepper (adjust to spice wimpyness)
black pepper to taste
1 tablespoon dried parsley
2 tablespoons nutritional yeast
1/2 teaspoon turmeric
Then do this:
DIRECTIONS
1. Preheat oven to 400 degrees F (200 Degrees C). Bake pie crust in preheated oven for 10 – 12 minutes.
2. Place broccoli in a steamer over 1 inch of boiling water, and cover. Cook until tender but still firm, about 2 – 6 minutes. Drain.
3. Heat oil in a large skillet over medium-high heat. Saute onion and carlic until golden. Add breakfast patty and mushrooms and saute until the mushrooms start to sweat. Add the broccoli stir together and set aside.
4. In a blender combine freaky milk, mustard, salt, nutmeg, red pepper, black pepper, parsley, nutritional yeast, turmeric, and tofu; process until smooth. Add it to the skillet and combine with the broccoli mixture. Pour into pie crust.
5. Bake in preheated oven for 40 minutes or until quiche is set and the top is a nice golden brown. Snack on something else in the meantime.
6. Dig deep and find a little more self-control and patience and allow to stand for 5 minutes before cutting.
6.5. Try not to eat the whole thing in one sitting.