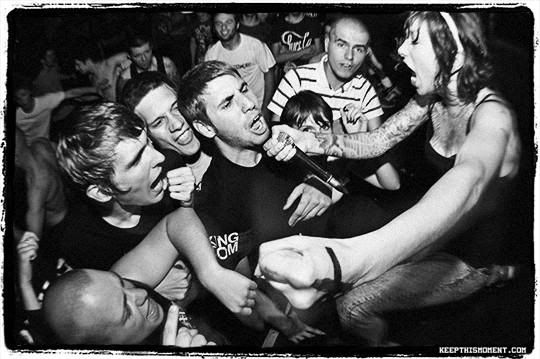 Philadelphia's Vegan Straight-Edge Hardcore band Kingdom is everything I love about real hardcore: fast, loud, aggressive and completely unapologetic. Their music is a flavorful blend of old-school head-bobbing chug-chug and lighting fast raucousness. Amazing songs tinged with elements of both metal and punk rock; teeming with a brilliance not found in many of the perfunctory hardcore bands today. More people should know about this band; they're too rad not to.
Recently, I reached out to Davin (lead vocalist) of Kingdom with a few questions. She responded in kind; this is what she had to say.
Who is Kingdom?
We're a hardcore band from Philadelphia (and various other locations on the east coast) named after Philly's infamous vegan Chinese restaurant- Kingdom Of Vegetarians (11th and Race St.- I highly recommend the walnut shrimp.)
When, where and how did Kingdom get its start?
We formed when Ben (our original drummer), Weezy (our original guitarist), and I screamed Journey's "Don't Stop Believin'" at the top of our lungs in Richmond, Virginia from December 31, 2005 into January 1st 2006. A few months later we were all writing songs together in the spare room of my apartment in Philly (which sounded nothing like "Don't Stop Believin'", unfortunately.) We recorded a demo, booked a tour, found a bassist who learned our songs the week before we left, and in summer 2006 we hit the road.
Vegan. Straight-edge. These are two ideals that Kingdom carry on their sleeve; can you tell us more about this?
Sure. I know that veganism and straight edge may not outwardly seem connected, but they are for us through punk/hardcore. We were introduced to each by bands like Minor Threat, Earth Crisis, Gorilla Biscuits, and One King Down (to name a few.) For me personally the two are connected by the mutual respect I feel for my own life and the lives of others- right before I became straight edge I got jumped on my way to smoke crack (which is really no way to live) just like, to paraphrase One King Down, 'to consume to satisfy rather than to stay alive' is no way to live. I didn't want to be selfish (eating other beings when I just as easily could not) or lose sight of myself (like I did during days spent high and drunk), and in being vegan and straight edge I found a balance. Each member has their own story, but they all meet at the same place and find a means of expression through our music.
What other topics do you try to bring to light through your music?
We have songs about consumerism (specifically about the Walmart employee that was trampled to death on Black Friday a couple years ago), Philly's poverty rate (which is extremely high) and the "stop and frisk" law that went into effect in recent years (which allows racial profiling), feminism/sexual double standards (the good ol' virgin/slut dichotomy), sweat shop labor, pollution, and of course we wouldn't be a punk band without at least one anti-racist song.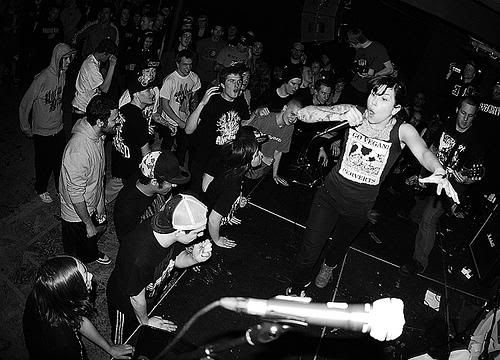 Kingdom's Music: Is it collaborative process or are there key players with regard to lyrics and/or music?
The music is collaborative, but I write all of the lyrics. We've had a lot of member changes over the years (due to the massive amount of touring we do- we spent 7 months on the road last year alone), so each release has been influenced by members in the band at the time. Ben, Weezy, and I wrote the demo and the 7″ ("9 Lives"), then Ben, Dave (our current guitar player), Pierce (our bassist until recently) and I wrote the full length ("The Rage That Guides".)
Switching gears a bit, Can you tell me about Philly vegan food?
What I usually tell people about eating in Philly (and with no small amount of pride) is that vegan food in Philly is like all food in Philly- dripping with grease, battered, and fried. You couldn't find heathy food if your life depended on it. You can however grab a veganaise-laden fresh off the (all vegetarian) grill vegan chicken cheese steak at Govindas, or hit up Kingdom founder's other (and far superior) restaurant, New Harmony (which has an all-you-can-eat deep fried extravaganza every Sunday night), or for the best tofu hoagie in town (which is of course the size of my forearm) swing into QT, for falafel and fries (the latter of which is topped with deep fried jalepenos and oily unbattered onion rings) Alyan's is the place to go, if you want to splurge, there's Horizon's (caramel creme brulee? Yes please!), Abyssnia and Cafe Almaz are both great for (oily) Ethopian fare, for the true Philly experience you have to hit up the Pretzel Factory at midnight (when they open) to get 3 soft, piping hot, freshly baked soft pretzels for $1 (don't forget to bring veganaise), and last but not least, I'll share with you my favorite meal in the city: it's from a little hole-in-the-wall Chinese place called "Shiao Lan Kung"- salt baked tofu (which is not baked at all, but fried… very misleading name) and eggplant with garlic sauce in a hot pot. It sounds standard, but let's just say when my Dad visited last we ate that 3 times in 2 days.
Food-wise, what are you really loving right now?
There's something that Dave and I make called "Pork Wings" that I can't get enough of. Homemade seitan, BBQ sauce from the Asian market, and a lot of Earth Balance. I can eat 4 before I get sick. Nonetheless, AWESOME.
What's overrated?
I'm going to contradict myself a bit here, but mock-meats/dairy. Daiya is amazing and all, but if you want to eat something truly phenomenal grab some broccoli from the farmer's market. Shit will make your head spin.
I'm in love with the new LP, The Rage That Guides. Can you tell me a little more about it?
Aw thanks! Sure. It came out on Eulogy Records last year. We spent the majority of the year promoting it- Jan/Feb in Europe, March-May in America, and June-Aug in Europe again. The day it came out was in the middle of our US tour, where after driving for 11 straight hours through 3 snow storms, we had a grand release in a little town in Idaho to about 30 kids, one of whom claimed to have been in the Guinness Book of World Records for world's largest dog (which was definitely untrue, along with everything else he told us that night.) Due to Dave's influence and our collective love of the death metal band Nile, that record is a lot heavier than our previous releases. As far as veganism being represented within it there is the song "Bathory" which likens consuming animals to stay alive to bathing in the blood of virgins to stay young (pointless, bizarre, cruel), a la Elizabeth Bathory, and "Fire Born", which was written in support of direct action groups. I also have to tell you the funniest thing that came from the record. In the song "Pythoness" the word "clitoris" is used, and much to our surprise that particular part of the song became a very popular part to sing along to. One night on tour (right after the record came out) a bunch of sweaty, angry dudes charged the stage and screamed "CLITORIS" in my face (of course, while I was also screaming "clitoris" back at them.) All I could think was…"What is my life?" Moments like that'll make your Momma proud. We all laughed so hard we could hardly play the rest of the song. It happened every night thereafter, and it never got old.
What's up with Kingdom now; What are you guys working on?
We're working on a 7″ that will be out later this year, and a 3-song something (tape? digital download? not sure yet…) which will be a fundraiser for a transitional living center for survivors of sex trafficking in Cambodia.

You Should Buy This Album.
Do yourself a favor and listen to Kingdom by checking out their
myspace page
, buy
their music and merch
and follow them on
their blog
. Davin has a blog of her own called
elladelphia
. Check it out yo.
Photos Courtesy of Kingdom