…essential
Living in New York City, I often take the ease of being a vegan for granted; the sheer multitude of options is definitely the impetus for my obliviousness. Every so often, a tour, a road trip or vacation will act like a bucket of water and splash me back to reality.
It's in those rare moments when I do come across some grub, that I truly appreciate vegan food in all its glory. Even a short trip can lead you spiraling towards a vegan dead zone if you're not careful.
So, while on a quick jaunt to Nyack, NY recently, I was pleasantly surprised to find not only an option, but a deliciously viable vegan option to boot!
Main Essentials is a relatively new edition to the Nyack Area. It's Rastafarian fare with a Dominican flare. Owner Enrique Almonte incorporates his Dominican Roots into every Ital dish that he creates and the results are great; slow cooked creations bursting with flavor and texture. The food is buffet styled (much like many of NYC's Rasta haunts) and fresh juices and Smoothies round out the menu.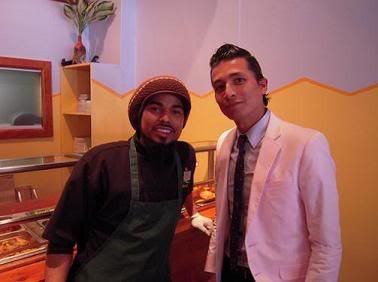 Mr. Almonte and Mr. Relic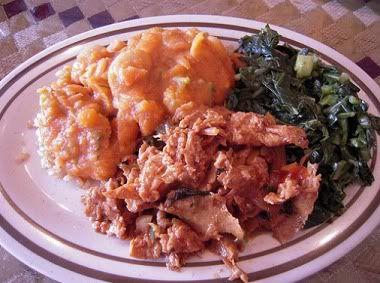 Sweet BBQ Soy Chicken, Curried Fava Bean Stew, Brown Rice and Collard Greens

The star of the show, Soy Chicken Empanadas
Main Essentials is at 145 Main Street, Nyack NY 10960. About 45 Minutes from Manhattan.
Photos by Dodai Stewart