The Weston A. Price Foundation is a group that asserts that human beings must eat animals. The Foundation has been proliferating this article that attacks vegetarians who have the audacity to stay alive, despite the Weston A. Price Foundation's assertions that human beings must eat animals. I've been encountering a lot of pro-meat advocates that express the conclusions of the article, and they're common ones you'll see a lot, so it is worth going over them here.

The article states its conclusions as follows, starting with this very common first argument:
'I do not see my eating of animals as merely optional. Based on extensive research on the matter, I believe that animal proteins, and especially high quality fats (and the fat-soluble vitamins they either contain or enhance), are essential for optimal health. Thus "kill and eat" is as imperative for me as for the wolf.'
I've been hearing this one for decades from a lot from pro-meat advocates. In a nutshell, people who have done lots of extensive research on the matter have told me I have these health problems:
-Your veganism has given you pernicious anemia, resulting in a life of bleeding agony and muscular problems. Your physique has suffered so much that you have not actually ran four marathons, cycled two Century bike races, achieved a black belt in Tae Kwon Do, and demonstrated Tai Chi on The Today Show years and years after becoming vegan, even though you thought you did.
-You have gone blind.
-You died about a decade after becoming vegan, from your body running out of the essential nutrients you could only get from meat.
Sure up to 90% of all cancers and heart disease are caused by eating meat but that pales in comparison to the droves of dying vegans you see as statistics on the news every night dying from… whatever it is.
The article's next big argument:
"Slitting the throat of a chicken destined for the table is a life necessity for me, but I do so within the context of partnership, gratitude, and respect… As long as my partnership with my birds is one of mutual support for a life of contentment and natural fulfillment, their nourishment of me is in balance with my nourishment of them."
I've also heard this from many pro-meat and Wicker Man human sacrifice advocates. It makes perfect sense: "Giving gratitude to someone you kill makes the victim give you the thumbs up, and makes them your business partner. And if they don't agree to that well how dare you talk to me this way!"
So many pro-meat people say we have a joyous partnership with animals we slaughter, and that voluntary partnership makes it imperative we continue slaughtering, and thus killing them for lunch is as moral as euthanasia is moral. So to say that we're "killing" them as opposed to "humanely taking their life for an honorable purpose" is infantile and would be an argument only fit "for an eight year old," as one pro-meat advocate put it to me.
Finally, this article and other pro-meat advocates seem to keep thinking it's more ecologically sound to eat slaughtered animals than to eat vegetables (sure the vegetables would be fed to the slaughtered animals, but eh):
'If you have not a clue where your vegetarian fare was produced, by whom, at what cost to other players in the local ecology, including economically oppressed humans—then do not dare presume a moral superiority based on the fact that I do indeed kill animals in my backyard, in the context of a way of food production which is most of all about regeneration, about healing, about ensuring an agricultural base "unto the seventh generation."'
Almost no meat eater knows where their meat comes from, much less where the vegetables fed to their slaughtered animals come from. "I know I know I know!" say so many pro-meat eaters, who then say, "But ALL you have to do is find a responsible, organic meat farm, where you know where the plants come from to feed the animals you eat, and you've undone the harm!" Of course, organic meat farms use MORE land and clean water to feed their animals, than the traditional farms that are already using enough vegetables to feed all of the humans in China and India.
At regular factory farms, one pound of hamburger costs 16 pounds of grain and 2,500 gallons of water to produce, and organic meat farms would use up even more natural resources per pound of meat. But if no one has the compassion or moral center to eat meat, then no one could look this cool: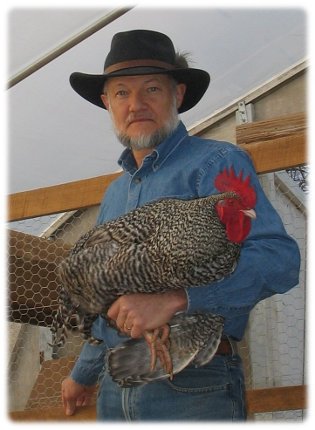 Harvey Ussery, the hartkeisonline.com article author