My weekend consisted of Zombies (Zombieland!), Roller-Girls (Whip-It!), thoughts of Vegan Twinkies (Woody Harrelson kicks ass!), Vegan Sushi (Soy and Sake!) and plenty of Vegan Movie Candy!
In my humble opinion a movie should always be paired with some sort of snack; whether it be popcorn (most Movie Theater popcorn is vegan – sans buttersludge) or candy – even if you have to sneak it in.
Join me as I rattle through my top five favorite movie snacks!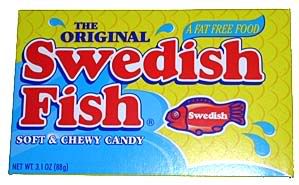 #5 – Swedish Fish

It's a pretty safe bet that any red-colored candy is gonna be good, and Swedish fish are! (in that chemically good kinda way). You can usually find these little guys at the movie theater in the candy counter. Really though, these are the only fish I eat.


#4 – Twizzlers
This is the only candy that I know that doubles as a drink straw, and a whip (to smack those pesky movie-talkers behind you!) And. The whole red colored candy thing. See #5.
#3 – Peanut Chews
Granted, I've never seen these at a movie theater, but these little bad boys are like the unofficial vegan candy bar; seriously. Sneak these lil guys in; they go good with #1.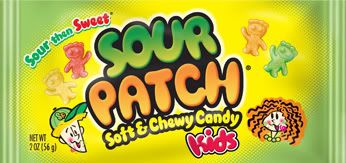 #2 – Sour Patch Kids
First they're Sour; then they're sweet. (Effective advertisement if you ask me). That romantic comedy starring Sandra Bullock might very well suck but Sour Patch Kids sure as hell don't.

#1 – Popcorn!
Popcorn in Spanish is "Palomitas de Maiz" – translated: Little Doves of Corn. Seriously how could you not want to eat little doves of corn? There's reason popcorn has stood the test of time as the world's #1 movie snack – it's perfect. The salty goes good with sweetness of your soda, you can eat it by the handful, it's easy to eat in the dark and it's perfect to share!
What's Your Favorite Movie Snack?
This is one of Supervegan's posts for Vegan MoFo 2009.