Many of my friends say that the best barometer for judging a Thai restaurant is their Pad Thai. This makes sense of course: you use a simple ubiquitous dish to serve as your litmus test. This is my modus operandi for most restaurants; most vegan products too.
The thing is, I don't like Pad Thai very much. I've always been a red curry man myself. So, much so, that I learned to make a simple variation of the dish at home.
This version is not only super simple, but super quick to boot. And mild enough to please those who have trouble with the heat found in most curries.
Recipe after the jump!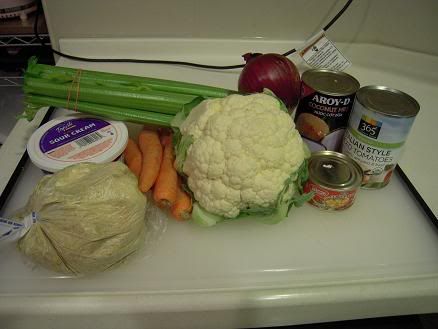 Stuff you'll need to get yer curry on!
Mixed Vegetables with Mild Red Curry
4 Cups of Assorted Vegetables
1 Medium Sized Red Onion
1 TBS Sesame Oil (or oil of your choice)
1 Can of Coconut Milk
1 Can of Diced Tomatoes (I like Italian Style)*
1 1/2 tsp of red curry paste**
1 TBS cornstarch mixed with 2 TBS of water
1 TBS Nutritional Yeast
Salt to taste.
Tofu Sour Cream (optional)***

(A) Fry your onions until translucent. (B) Add your tomatoes and red curry paste. Fry for 2 -3 minutes on medium high heat. (C) Add your coconut milk and stir until incorporated. Add your cornstarch mixture and nutritional yeast. Allow to cook for 2-3 minutes.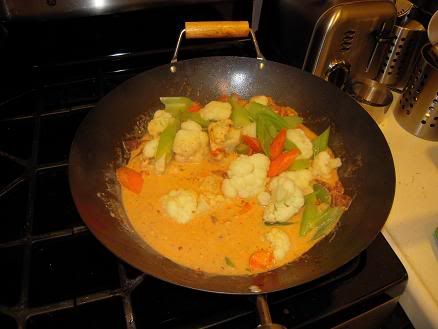 Add your vegetables to the curry mixture. (I like to blanch mine in (salted) boiling water for a couple minutes first). Mix thoroughly and allow to simmer on low heat for a few mintues. Add your Tofu Sour cream to cut the heat.
Serve over brown rice or noodles: Then, eat up dude!
*The tomatoes act as a way to cut the heat
** Usually found in the "international" section of the supermarket
***This will not only help cut the heat, but add to your creaminess too!