Don't let the list of ingredients or steps fool you, this recipe is quite easy. Remember folks looks can be deceiving! (All this time I thought Justin Bieber was a cute lesbian with a few hit songs. Boy, was I wrong!)
This recipe is kind of like that, except without the gender confusion or cheezy pop songs. I can't figure out if Justin Bieber is a revolution or this decades MMMBop kid. I guess time will tell. Oh yeah, the recipe! It's good, I like it, you should make it.



Broiling the Veggies!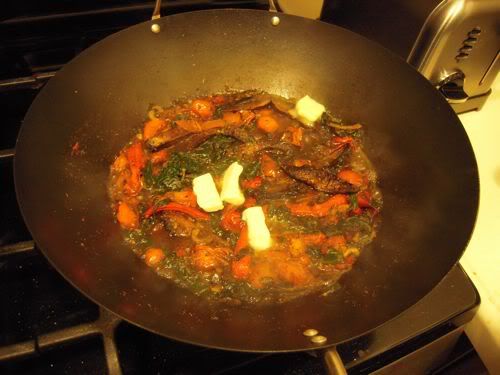 The Sauce is coming together!
Pasta With Broiled Vegetables and Brown Soy Butter Sauce
#1
1/2 Pound Mushrooms Sliced (I like Portobello Caps)
1 Medium Onion Sliced
1 Medium Bell Pepper Sliced
Olive Oil
Salt and Pepper
#2
2 cloves of garlic
1 TBS Olive Oil
#3
1 pint of Cherry Tomatoes halved (or Can of diced tomatoes)
1 Cup of Fresh or Frozen Spinach
#4
6 TBS of Soy Butter
1/2 Cup Vegetable Broth
1 TBS of Nutritional yeast (Optional)
1 teaspoon of dried oregano
Salt and Pepper to taste
1/2 Pound Pasta (cooked)
Lay out your #1 vegetables and drizzle with olive oil, salt and pepper. Place under Broiler (or oven) for 10 minutes or until tender. Meanwhile sauté your #2 ingredients over medium heat for 2 minutes. Add your #3 ingredients and sauté over medium heat for 5 minutes. Add your broiled vegetables and ALL of your #4 ingredients. Simmer over Medium heat until Soy Butter is melted. Toss with cooked pasta; then eat!