Dear Stomach,
Sometimes I love to cook. Sometimes I don't. Sometimes I have to work late so I can't cook. And, well, sometimes I just can't be bothered. I know you get tired of take-out; I do too. Hopefully this dish you are about to eat will suffice; it's fast, easy and quite delicious. Can you, like, get off my case now?
Recipe after the jump!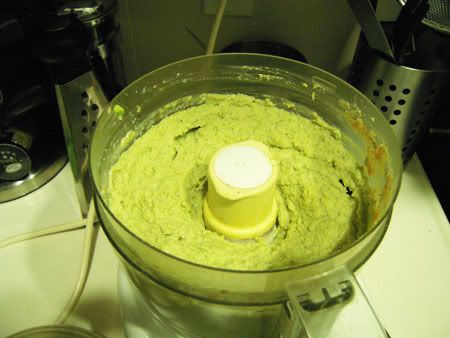 Okay. So. It's not really a pesto. What else would I call it?
Pasta with Edamame Pesto
1/2 Cup Raw Cashews
2 Cups cooked shelled edamame
1 Can White Beans (drained & rinsed)
1/2 Cup Vegetable Broth
1/4 Cup Nutritional Yeast
2 tsp tamari or soy sauce
2 tsp garlic powder
1 tsp dried oregano
1 tsp black pepper
salt to taste.
1 pound of pasta (your choice)
Steamed Veggies (totally optional)
Pulse the cashews in the food processor. Add the rest ingredients in the food processor until thoroughly combined. Salt to taste.
Cook pasta to package directions; toss hot pasta with your sauce. (add your veggies if using) Then eat dude.