Not since Romeo and Juliet have two unlikely players come together to create such beauty. Oh, Peanut Butter and Jelly, how do I count the ways? Here's a baked bar that incorporates the two; it's like beautiful music dude.

Dry Stuff
1 1/2 cups all-purpose flour
1/2 teaspoon baking powder
3/4 teaspoons salt
Wet Stuff
1/2 Cup (1 stick) soy butter, at room temperature
3/4 cup (white) vegan sugar
1/2 teaspoon vanilla extract
3 TBS of Ground Flax Mixed with 4 TBS Water
Other Stuff
1 Cup creamy peanut butter
3/4 to 1 cup of your favorite jam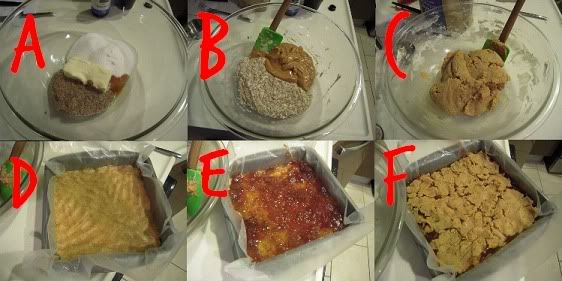 Preheat your oven to 350 degrees. Sift your dry stuff (A) Mix your wet stuff. (B) Add the peanut butter to wet stuff until you reach a mousse-like consistency. (C) Add your dry stuff to the wet stuff and PB mixture (the dough should be stiff). (D) Lay 3/4 of your dough into an 8 X 8 pan lined with greased parchment paper. (E) Pour your jam onto the top of the dough (F) Spread remaining mixture of on top. Bake at 350 degrees for 35 minutes or until golden brown.