When I was younger I had a pet chickpea. Not a dog or cat named chickpea mind you, but an actual garbanzo bean as a pet. Next to my Mr. T lunchbox it was my favorite thing in the whole world.
The kids in the neighborhood used to make fun of me for this. One day, I fed it after midnight and it grew to the size of mid-sized sedan. It killed the kids who were mean to me. In the melee that ensued, the National Guard came in and destroyed it. That's how hummus was invented.
This recipe is in honor of my old friend. Recipe after the jump!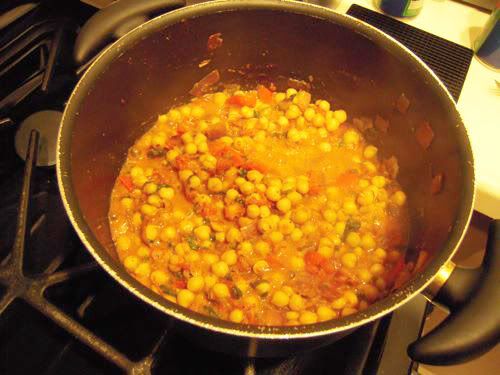 There's like a hundred friends in there!
Sorta Chickpea Masala
#1
1 TBS Vegetable Oil
1 medium onion
1 medium bell pepper
2 cloves garlic (minced)
#2
2 tsp ground coriander
1 tsp ground cumin
1 tsp ground tumeric
#3
1 (14.5 oz) Small Can of Diced Tomatoes (preferably fire-roasted)
1 cup of vegetable broth
2 cans (or 4 cups cooked) chickpeas, rinsed and drained
#4
1 tsp garam masala
1 tsp paprika
2 TBS lemon juice
1/4 cup minced fresh cilantro (packed)
Diced fresh jalapenos (optional)
#5
Salt and Pepper to taste
Heat oil on Medium High Heat. Sautee #1 ingredients on medium heat for 5 -7 minutes until soft. Add #2 ingredients and saute until fragrant. (1 – 2 minutes). Add your #3 ingredients and stir to combine. Raise heat level to Medium High and bring your ingredients to a boil. Add #4 ingredients (stir well) and lower heat to low. Allow to simmer until most of the liquid has evaporated. Lastly, adjust your salt and pepper.
Serve over brown basmati rice. Reminisce about your long lost friend.