After much trial and error (not to mention a stack of dirty dishes), I may have found it: the Best Vegan Chocolate Chip Cookie Ever. Seriously.
The genius of these cookies are in their simplicity; simple ingredients with a nice balance of brown and white sugar – the crisp and the chew. You won't find some of the usual suspects that show up in other vegan chocolate chip cookie recipes here: (So, no tofu, soymilk or soy yogurt here, dude.) this is as pure as it gets.

Dry Stuff
1 1/4 Cup Unbleached All Purpose Flour
1/4 tsp baking soda
1/8 tsp salt
Wet Stuff
1/2 Cup Brown Sugar
1/4 Cup (White) Vegan Sugar
1 Stick (1/2 Cup) of Soy Butter (Earth Balance)
2 TBS of ground flax mixed with 3 TBS of Warm Water (allow to sit for 2 minutes)
1 tsp vanilla extract
Other Stuff
1 Cup Vegan Chocolate Chips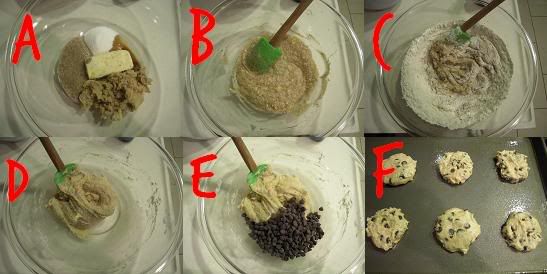 Preheat your oven to 300 degrees*
Sift your dry stuff. (A) Get all your wet stuff ingredients together. (B) Whisk or mix your wet stuff thoroughly with a spatula. (Do not beat)**. (C) Mix your wet stuff and dry stuff together; (again with a spatula not an electric mixer)** (D) You should have a nice stiff mousse-like dough. (E) Mix in your vegan chocolate chips. (F) Form your cookie dough with wet hands*** and place (with a good amount space between them) on a greased cookie sheet. Bake for 20 – 23 minutes at 300 degrees until golden brown.
* Lower cooking heat allows the cookie to bake even evenly and stay chewy.
** Electric mixer makes the dough too fluffy, mixing by hand allows for the right consistency to achieve the proper balance in your end result.
*** Forming with your hands ensures a uniform cookie.