New York City is amazing for many things. Tasty tomatoes year-round is not one of them. (Damn You California!). During that tiny window of the year when tomatoes are actually good it's best to use the hell out of em'.
This gazpacho is top secret for a reason. It's a big gun. Simple. Delicious and perfect to bring out when that tiny window I mentioned above opens. It's the kind of recipe that people think you did way more than you actually did.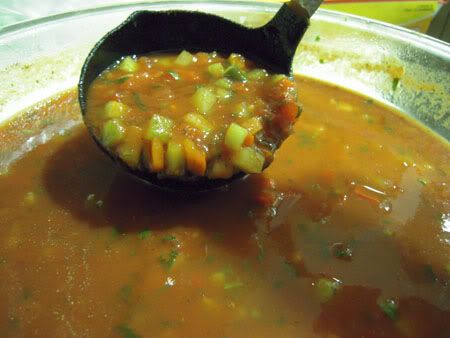 The key is the finely diced (fresh!) vegetables, a (mandatory) 24 hour marinating time (so, plan ahead!) and a couple absolutely necessary
secret
ingredients:
V8 Juice, fresh cilantro and fresh lime juice! Accept no substitutes.

A perfect time to work on them knife skillz MN'F'er!
Top Secret Gazpacho
#1
3 Medium (ripe) tomatoes
2 small bell peppers (red/yellow/orange preferred)
1 pound peeled cucumbers
#2
2 TBS finely diced red onion
2 garlic cloves minced
#3
1 teaspoon sea salt
1/4 Cup Red Wine Vinegar
#4
6 Cups of V8 Tomato Juice
1/4 Cup (finely chopped) packed cilantro
2 TBS fresh lime juice
Salt and Pepper to taste
8 Ice Cubes
Seed and dice your #1 ingredients into 1/4 inch cubes. Place in large bowl along with #2 ingredients. Add #3 ingredients and allow to sit at room temperature for 10 minutes. Add #4 ingredients stir to combine. Add Ice cubes and store for 24 hours in refrigerator.
Remove ice cubes (if still there), stir and serve. Serve with fresh avocado, croutons or tortilla chips as a garnish.