The Bahn-Mi is a perfect example of two different cultures coming together to create a culinary marvel. This French-inspired Vietnamese sandwich is both peculiar (for it's unusual-for-a-sandwich ingredients) and absolutely delicious. France took care of the bread and spread while Vietnam took care of the rest.
Crispy, crunchy, sour, spicy with both hot and cool ingredients – the sandwich is like a great party where all your cool friends were invited. While vegan versions are available at various locations throughout the city – I like to make my own.
Here's a (mostly) from scratch recipe.
A Banh-Mi is all about ingredients. Here's a gander at everything you'll need.
(A) Veganaise (B) Sweet Onion (C) Carrot/Daikon Slaw (D) Jalapeno (optional) (E) Mushrooms (F) French Bread (G) Cucumber (H) Cilantro
Here's how to make your 'Shroom filling.

Shroom' Filling
1 TBS Olive Oil
1 pound Baby Portobellos Mushrooms (or regular)
1 large Sweet Onion
1 TBS Soy Sauce
1 TBS Balsamic Vinegar
1 tsp garlic powder
1 tsp ground pepper
Salt to taste
Heat olive oil in a pan. Add your onions and mushrooms and sauté for 2 minutes. Add your soy sauce, vinegar, garlic powder, salt and pepper and saute until soft and caramelized.
Here's all your "cool" friends who'll be at the party. (And a recipe for the slaw)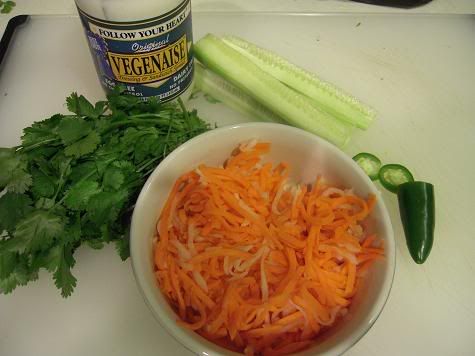 Peel your cucumbers and slice into spears. Wash your cilantro. Slice your jalapenos (if you're using them.) Oh. And Veganaise is your friend.
Carrot/Daikon Slaw
3/4 Cup peeled and thickly grated carrots
1/4 Cup peeled and thickly grated daikon
1/4 Cup seasoned rice vinegar (unseasoned is fine too)
1/4 Cup Vegan (white) Sugar
1/2 Cup water (room temp)
1/2 to 1 tsp salt (your preference)
Add all your ingredients into a large bowl and marinate for an hour; stirring intermittently.
Be sure to toast your bread first! Here's how to layer your sandwich.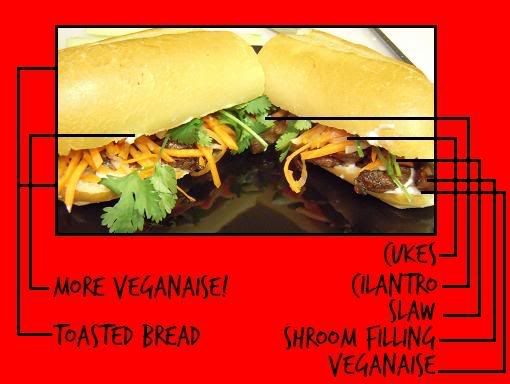 Oh. And Then, you eat it. That's the most important part!