The What: Parked, The Gowanus Food Truck Festival
The What's Up: BKLYN Yard. A bunch of parked food trucks. Cinnamon Snail, Vegan Food Truck. Other Vegan Options. Beer Garden. (We mentioned it last week)
The Yes: On paper this is great idea: An open space featuring some of NYC's best food trucks; plus, y'know, vegan options. Cinnamon Snail was decent at best*.
The No: On paper this was a great idea. Unfortunately, the execution left a lot to be desired. The fact that there was a line to get into a free (open area) event should have set off a warning bell in my head. My top complaints: Too small of space for such a large group of people, minimal seating (at a food-based event no less) and 3-dollar water! My biggest letdown: Cinnamon Snail*. The one all-vegan truck not only had slow service (The person behind me was told that the wait would be 30 minutes for a sandwich) but they tried to remedy the long lines by rushing the food; what came out was sloppy and not very composed. Plus, I was a little grossed out by the fact that the dude preparing my food was sweating profusely and (literally) dripping on the food he was making. The people waiting around me were not happy and quite vocal about their disdain for the proceedings.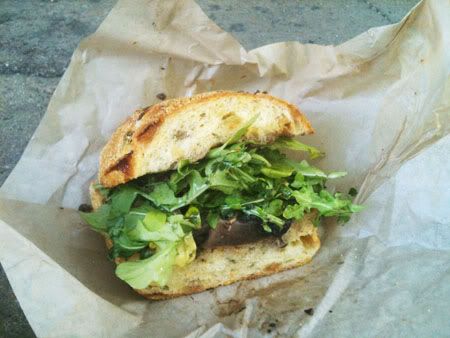 Exhibit A: Decently tasting but sloppy and hard to eat. (Portobello Sandwich)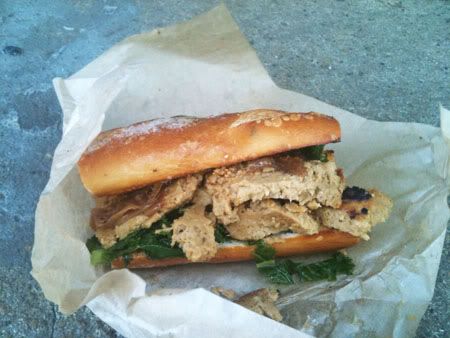 Exhibit B: (Miso Seitan)
The Word:
Parked: The Gowanus Food Truck Festival is a great idea that needs some rethinking. I'd love to see it moved to another (larger) location for a future incarnation. I wasn't too happy with Cinnamon Snail but I could see how their food would be good in a (slower-paced, less-sweaty) setting.
Did you go? What did you think?