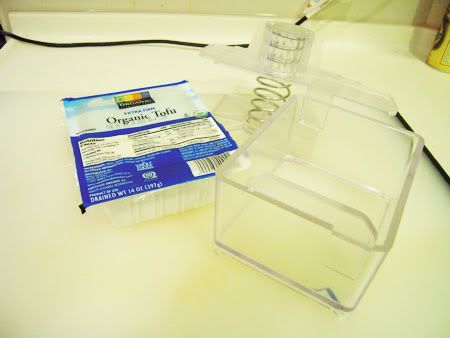 The What:
Tofu Xpress
The What's Up: Guy creates plastic box fitted with a spring and plate to get the water out your tofu. I'm like, "why didn't I think of that?"
The Yes: The Tofu Xpress benefits from a simple design: it's easy to use and does exactly what it promises. The coil pressure locking system allows the water from the tofu to be pressed out without ruining the consistency of the tofu. (In other words, there's no "smashing or smooshing" of the tofu). There's no mess, no waste of paper towels; it's a great product.
The No: Simply put: It's expensive. I can see the cost being a big deterrent from buying it. If tofu is a regular in your cooking arsenal then it just may be worth the chunk of change. It also takes (at least) an hour to drain your tofu properly, so there isn't the benefit of quick use.
The Word: The Tofu Xpress is that rare product that is simple, effective and germane. It's useful if you use Tofu on occasion but an absolute must-have if you use tofu regularly. I've seen (and used) similar products on the market – this one is the best.
The Info: Tofu Xpress is the website. It will set you back $39.99 (currently on sale) plus shipping. You can also scoop it from Amazon.