Food always tastes better when someone else makes it … except today. I made a salad of such epic proportions that it is now regarded in my household as The Best Salad Ever Eaten. For full disclosure, it took awhile, but only because of all the components– none of which are particularly difficult. It's got spinach, avocado, spiced roasted golden beets, cashew cheese croutons, coconut bacon, and a vinaigrette dressing. It's full of Umami and will make you happy, handsome, and another adjective that starts with 'h'. Try it! It's better than it looks, promise.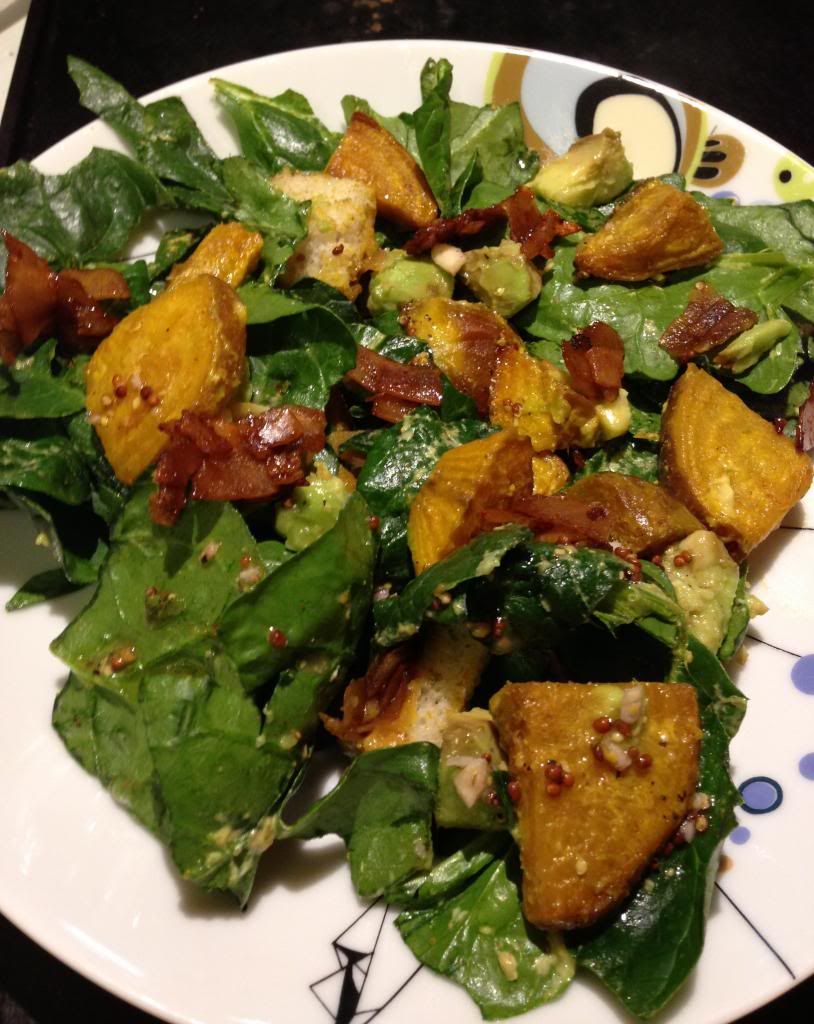 CASHEW CHEESE
First, make the cashew cheese, a day before even, as it gets better once it's been fully fridged.
In a Vitamix or food processor mix the following ingredients (liquids first!) together until smooth and creamy:
1/4 Cup olive oil
1/4 Cup lemon juice
1 TBSP soy sauce/Braggs
1/2 Cup water
1/4 Cup sesame seeds
2/3 Cup nutritional yeast
1 1/2 Cup cashews (I like salted, some people like raw)
1 1/2 tsp ground flax seeds
1 1/2 tsp turmeric
1 1/2 tsp garlic powder
pepper (I put in about 3 or 4 dashes)
Spatula it all into a sealable container and shove it in the fridge overnight!
COCONUT BACON
This can also be made ahead of time, but it's so good it might not last till salad time!
Turn your oven on to 350 degrees.
In a mixing bowl stir together:
4 TBSP soy sauce
2 TBSP maple syrup
1 TBSP liquid smoke
1 TBSP nutritional yeast
Add 2 cups of large unsweetened coconut flakes and stir until all the flakes are well sauced.
Spread the mixture into a baking dish (one with sides is best so the liquid doesn't drip into your oven and make a smokey mess) and bake for 10 minutes. Don't go far, this stuff can burn in an instant. After 10 minutes, stir it up and bake for 3 minute intervals until the bacon gets slightly crispy and darkens a bit. Be vigilant! It shouldn't take more than 20 minutes total. Take it out and let it cool, that's when the real magic happens. It crisps up and gets hit with the delicious stick (which is invisible).
SPICED ROASTED GOLDEN BEETS
Turn your oven up to 400 degrees.
Wash, trim and chop 3 large golden beets into bite size chunks. You can peel them if the skin is hairy or gross.
Put the chunks in a big baggie and add:
1/2 tsp curry powder
1/2 tsp paprika
1/4 tsp chili powder
1/4 tsp salt
1-2 TBSP coconut oil
Seal the bag and shake it up really well, until all the beets are evenly coated. Pour the beets onto a baking dish — sides are still good though, so the oily goodness doesn't drip down and create toxic smoke.
Roast for 30 – 40 minutes, or until they seem even more golden and done. It's a good idea to flip them around half way through.
DRESSING
In a small bowl whisk together:
2 TBSP red wine vinegar
1 TBSP olive oil
4-5 garlic cloves, minced
2 tsp lemon or lime juice
2 tsp Dijon mustard
1/2 tsp salt
1/4 tsp pepper
Voila! Dressing! (This dressing is really good on lentils, too.)
You're almost done! Just a few more steps before you feast:
– Toast a piece of your favorite bread. Get it really crispy and then let it cool. Once it has, spread a generous amount of the cashew cheese on it and cut into croutons.
– Prepare one bunch of fresh spinach. Rinse the leaves well, trim the stems, dump it in a salad spinner and dry it.
– Cut up a ripe avocado. Don't skip this step, avocado is what I call The Money Food — it adds infinite deliciousness.
– Put all the spinach in a large salad serving bowl. Add the avocado, the roasted beets, some coconut bacon (1/2 cupish) and just a wee bit of the salad dressing. You really don't need too much, and can always add more. The reverse does not hold true. Toss, add the croutons, get a fork, and eat! Hope your mouth likes it as much as ours did.
Got an even better salad? Let us know in the comments and send us a recipe at tips@supervegan.com