Being a touring Vegan musician is never easy; there's a delicate balance between starving and knowing what, when and where you can grub. If you travel throughout a region enough, you get to know the standbys, the health food stores and the one-offs.
Sometimes it's the potato chips that save you. Other times, it's the grocery store hummus and pita. Every so often though, you get a treat and find a new veg*n place you never knew existed.
Enter Garden Grille Cafe in Pawtucket, Rhode Island. I was in the area recently playing a festival and happened upon this spot. It's an unassuming joint located in what could best be described as a strip mall. The food is straight cafe fare; sandwiches, wraps, pizzas and salads.
I'd be hard pressed to write a proper review, because, well, I was hungry and the sweet taste of vegan nosh always skews one's vision when all you've had is water and some nuts – to me it was all delicious. So, I'll let the pictures do the talking.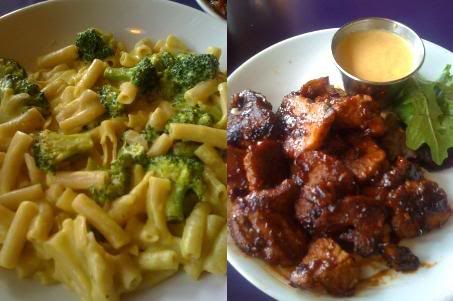 Gluten Free Vegan Mac & Cheese with Brocoli

Soy Chicken Strips & Homemade Vegan BLT with avocado
Garden Grille Cafe is located at 727 East Avenue, Pawtucket, RI 02860,
This is one of Supervegan's posts for Vegan MoFo 2009.