AMC's Mad Men has quickly become a cultural phenomenon. Who would have thought a show about 60's era Ad Men could be so compelling? It is engagingly intriguing, poignantly allegorical; full of both mystery and drama: there are few shows like it.
If you have yet to experience it, you should. If you have, then, you're probably excited about this Sunday's (July 25TH at 10pm) Season Four premiere. I know I am. So much so, I created a veritable 60's throwback of a dinner to celebrate it's premiere.
Something you just might find waiting for you at home after a long day at Sterling Cooper. Albeit this one's vegan and delicious!
What's for dinner you ask? How about a Seitan Wellington with Brown gravy, Creamed Spinach and Mac and Cheeze!
Recipe and (snazzy) photo after the jump.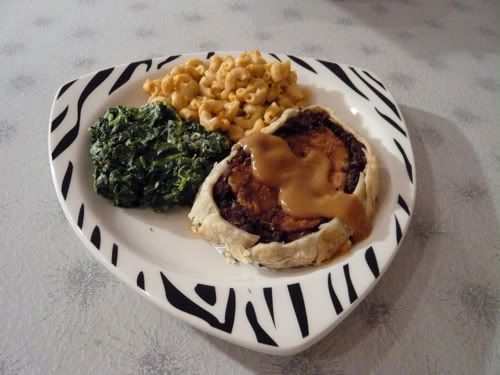 Plain and simple: one would rarely if ever make this on a weeknight. This is a process. A Sunday night dinner, the kind of meal one would make if you
like
to cook. In short this is a meal for the
mad
ones.
I've opted for individual portions of the Seitan Wellington as opposed to the laborious (difficult and prone to disaster) full loaf version. I've also opted to do a boiled seitan rather than the easier baked seitan to make sure the Wellington stays moist. I've also included a gravy to combat Mr. dry.
SEITAN WELLINGTON
THE SEITAN PART
#1
2 1/2 cups vital wheat gluten
1 TBS Garlic Powder
1 tsp (crushed) rosemary
1 tsp black pepper
1 Cup (cold) vegetable broth
1/4 Cup Nutritional Yeast
1/4 Cup Chickpea Flour
#2
1 Cup (cold) vegetable broth
1/2 Cup Soy sauce
2 TBS Olive Oil
#3
6 – 8 Strong (cold broth) Vegetable Broth mixture
Mix your #1 ingredients well. Create a well in the center add your #2 ingredients and mix with your hands. Knead for 10 minutes to release any air bubbles. Create four to six equal cutlets depending on how large you want them.
Place your (#3) broth in a large Stock Pot. Put your seitan cutlets in the broth and bring to a boil. Let simmer for an hour or so. Leave the Pot partially uncovered to allow some steam to escape.
Remove your seitan from the broth and allow to cool completely. Allow to cool on paper towels (to drain any excess water).
THE PATE' PART
2 TBS Olive Oil
1 Cup onion
3 cloves of garlic
1 tsp dried thyme
1 tsp black pepper
1/4 tsp salt
1 TBS Nutritional Yeast
1 lb baby 'bella mushrooms chopped (stems removed)
1 cup lightly toasted walnut pieces
I Can drained cannelloni beans
1/4 cup vegetable broth
Heat your olive oil over medium heat. Brown your garlic for 1 minute. Add your onions and cook for 2 minutes. Add your mushrooms and continue to stir; cook until soft. Meanwhile grind the walnuts in a food processor/blender. Add your cooked mushroom mixture, spices, beans and broth and process until smooth. If your mixture is too wet add more nutritional yeast until you achieve a solid (albeit smooth) consistency.
THE PUFF PASTRY PART – (Store bought would work fine too!)
1 1/4 cup all purpose unbleached flour
1/42teaspoon salt
1/2cup water, or as needed
1/2 cup soy butter, (one stick) at room temperature
Mix your flour and salt in a large bowl. Gradually stir in your water until the dough holds together to come off of the sides of the bowl. Shape into a ball and allow to rest for 15 minutes.
Flatten out your dough with a rolling pin. Press your soy butter under two pieces of plastic wrap until you have a flat disc of sorts and place it within the center of your dough. Roll your dough around the butter until it is completely encased. Gently roll out your dough with a rolling pin again. Fold the sides of your rolled dough in again and roll out again with your rolling pin. Repeat a couple of times; the last time laying out the dough flat. Chill dough in your refrigerator for at least 30 minutes.
SEITAN WELLINGTON: THE ASSEMBLY
1. Spray a (or rub) cookie sheet with oil.
2. Place your Seitan cutlets evenly apart.
3. Cover the outside of each cutlet with the generous portion of the pate.
4. Slice a one inch wide piece of puff pastry (you may have to connect a few) and wrap around your pate covered seitan cutlet.
5. Bake @ 350 for 15 – 20 minutes until pastry is browned.
The BROWN GRAVY
2 TBS Soy Butter
2 TBS Flour
1 tsp garlic powder
2 TBS Corn Starch
1 1/2 Cup Cold Vegetable Broth
1 TBS Soy Sauce
1 TBS Nutritional Yeast
Melt soy butter in a medium saucepan. Add your flour, garlic powder and sauté over low heat for 5 minutes. In a small bowl mix your cornstarch with the cold vegetable broth, soy sauce and nutritional yeast. Add to your saucepan and combine until thoroughly incorporated and thickened.
SIDE DISHES
THE MAC AND CHEEZE
2 Cups of Water
1/4 Cup fresh tomatoes diced
1/4 Cup Cashew Butter (or pureed equivalent)
1/4 tsp garlic powder
1/4 tsp onion powder
1/4 tsp tumeric
1 tsp ground pepper
1/2 TBS sea salt
1/2 TBS fresh lemon juice
2 TBS Cornstarch
1/4 to 1/2 Cup Nutritional Yeast (your preference)
Cooked Whole Wheat Macaroni Noodles
Place all ingredients into blender. Blend until smooth (stop and stir as you go along). Transfer to sauce pan. Heat on medium high heat. Wisk with fork until desired thickness. Pour over cooked Macaroni Noodles * Eat!
THE CREAMED SPINACH
1 Pound of Spinach (fresh or frozen)
1 TBS Soy Butter
1 TBS Olive Oil
1 minced garlic clove
1/2 tsp nutmeg
1/4 Cup Tofutti Cream Cheese
2 TBS Nutritional Yeast
Salt and Pepper to taste
Saute your garlic in soy butter and olive oil for 3 minutes over medium heat. Wash your spinach well and remove as much water as you can. Add your spinach and sauté until wilted and soft and most of the water has evaporated. Add your nutmeg and stir. Add your Tofutti cheese and nutritional yeast. Salt and pepper to taste